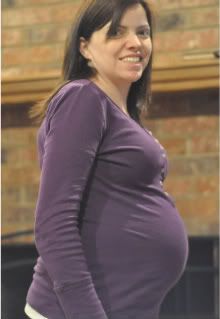 (Please excuse this horrible shot. I gave Joshua a hard time for taking it at such an awful angle)
How Far Along: 28 Weeks - Officially in the 3rd trimester!
Size of baby: 14.8 inches and 2 1/4 lbs
Total Weight Gain/Loss: Gained 18 lbs
Maternity Clothes: I'm mainly wearing maternity jeans and pants but I'm hanging onto my non-maternity tops. They're almost all too short now, though.
Gender: It's a surprise! We'll find out when he/she gets here! I think it's another boy, but we'll see!
Movement: He/She is pretty active, especially at nights. I often wake up in the middle of the night and feel him/her squirming around.
What I miss: Sleeping on my stomach
Cravings: Mushrooms! I could eat them for every meal. Which is strange for me, since I usually don't like them very much. Have also had a few cravings for Dairy Queen Blizzards (which I've managed to ignore so far)
Discomforts: Lots of pregnancy induced heartburn. Yuck!
Best Moment this Week: I went through all of our baby clothes, pulled out all the gender neutral stuff, and got the new nursery ready. I'll post pictures soon!