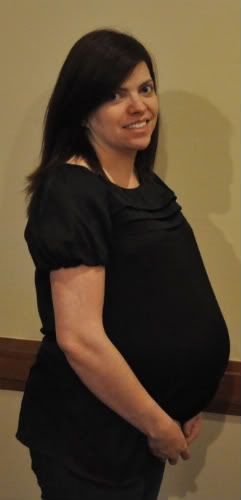 How Far Along: 38 Weeks! Holy cow! Hard to believe that baby will be here so soon!
Size of baby: Approx 6.8 lbs and over 19 1/2 inches long (about the length of a leek)
Total Weight Gain/Loss: Ugh. I feel smaller this time around, but I'm already up 35 lbs, and I'm close to the same weight I was when I delivered my son.
Maternity Clothes: Yep, it's pretty much all maternity at this point. I'm so sick of wearing maternity clothes!
Gender: It's a surprise! We'll find out when he/she gets here! I've been thinking boy all along, but these last few weeks I've been having a strong girl feeling. But I go back and forth on that. Depends on the day you ask me ;) Guess we'll see soon!
Movement: Feeling lots of hard jabs in my ribs and the baby like to jam his/her foot into my side, which hurts, but is fun to see from the outside.
What I miss: Sleeping on my stomach, most definitely. I can hardly get comfortable and wish I could just flip onto my stomach. And I miss regular clothes.
Cravings: Nothing significant lately. Still loving mushrooms, though!
Discomforts: Everything is starting to get uncomfortable. Just sitting on the sofa starts to hurt, as well as laying down, getting up off the floor, etc. Basically everything hurts.
Best Moment this Week: Lots of Braxton-Hicks contractions. Not that those are great moments, but it makes me realize that the baby will be here soon! I can't wait to meet him/her :)